At VCS, it's all about time, which is why we've dedicated the past 20 years to helping customers make the most of theirs.

VCS creates intelligent workforce management software that simplifies employee scheduling, time & attendance, human resources and payroll for government entities and businesses. Our software solutions change the way employees and managers communicate by creating 100% transparency between them with data-driven metrics, real-time access to schedule and daily activity details, company-wide broadcast messaging notifications, 24/7 mobile access, and so much more.

VCS arms all organizations with the tools needed to work smarter, not harder by streamlining their most tedious business processes.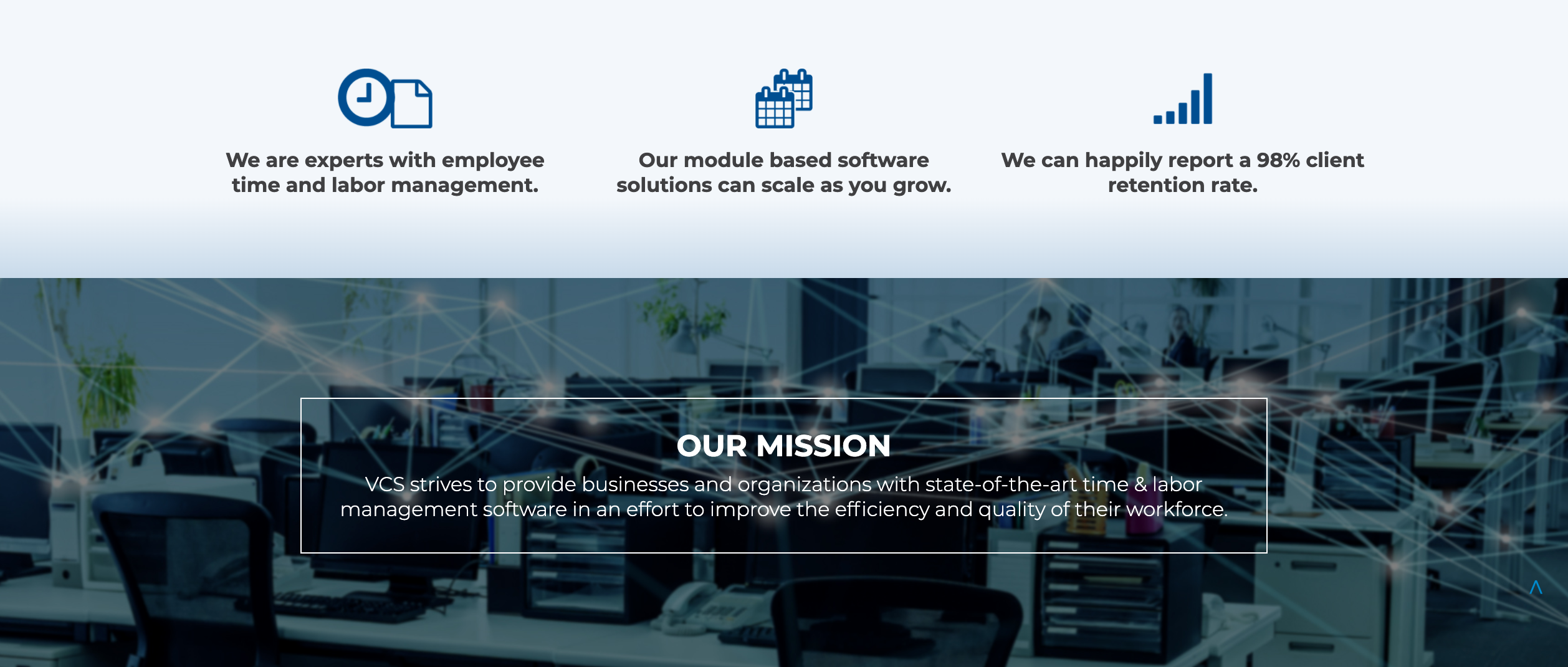 Incorporated in 1998, VCS maintains its corporate offices in Freehold NJ, USA. For over twenty years, VCS has been providing intelligent workforce management software to business and government entities. Our robust solutions are equipped to handle all aspects of workforce management including, but not limited to:

Overtime Accountability.
Fairly manage overtime opportunities according to last job worked, total overtime hours, or seniority; thus, eliminating the cost of unnecessary overtime.
Management of PTO and Time Off.
Accommodate holiday, overtime, shift, and pay-period policies for exempt and non-exempt according to FSLA rules and regulations
Eliminate Payroll Errors.
Automatically calculate hours worked; saving time and eliminating the clerical and duplication errors. Direct transfer to your existing payroll system with the click of a button.
Web-Based Accessibility.
Empower employees via the Internet to request leave and access time balances. Enable supervisors to evaluate requests against real time balances and scheduled labor requirements.
Eliminate Paperwork.
Eliminate timecards, timesheets, or handwritten attendance records. Supervisors can view, edit, and approve employee's time tracking information electronically.
Analysis Tools.
Easily access consolidated time off & overtime information for analysis, reporting, and financial planning. Print valuation graphs instantly for presentations.
Increase Productivity.
Reduce total costs (direct and indirect) of administering leave policies. Streamlined operations and fair application of paid leave leads to a more productive workforce.
Reduce Potential Liabilities.
Effortlessly produce informational reports in response to grievances or community requests.