Jobs4Blue is the #1 outsourcing partner for your extra duty management simply because we know your world.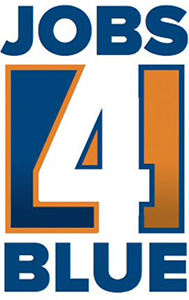 With over 25 years of Police Scheduling experience, we are the experts who you can trust to manage your entire extra duty employment process.

Our Mission is to simplify extra duty management by eliminating the daunting and time-consuming administrative tasks that are typically associated with this process.

In a nutshell, this means that the extensive man-hours and labor costs that are currently consuming your agency's time can now be better spent to protect and serve your communities.
WORK WHEN YOU WANT
Let Jobs4Blue take care of the rest.

REAL-TIME JOB POSTING VISIBILITY

AUTOMATED BILLING UPON JOB COMPLETION

EXPEDITED PAYMENT PROCESSING

NO AGENCY COST

FULL LIABILITY INSURANCE COVERAGE

RULES AND SKILL BASED JOB AWARDING OPTIONS

IMMEDIATE NOTIFICATIONS

FLEXIBLE WORKER AVAILABILITY OPTIONS
Jobs4Blue provides a user-friendly experience designed exclusively for your extra duty needs.
Coordinating daily extra duty job schedules
Responding to contractor requests
Handling emergency and non-emergency jobs
Chasing down collections from delinquent accounts
Management of all service requests, scheduling job awarding and emergencies
Ongoing and productive relationships with all vendors
Elimination of the internal cost associated with the management of your extra duty process
Comprehensive management of all vendor invoicing and collection activity
A dedicated team of extra duty job coordinators that work directly with your officers
Artificial Intelligence tracking capabilities ensuring job matching to officer availability
HOW JOBS4BLUE WORKS
WE TAKE THE CALL
Contractors contact Jobs4Blue and inform us of the job details and personnel needed, so we can fill the extra duty requirements. Thanks to our decades of police scheduling experience as well as the ability to view current work schedules, we have extensive knowledge of where staffing fulfillment is needed. For example, while a contractor may assume only one officer is needed for a specific job, we know workload requirements and that the entire operation will get shut down if there aren't two officers present. We have a close-knit relationship with many contractors and often act as a consultant to ensure that all jobs are properly filled. Contractors have even expressed to us that they don't mind paying the additional fee, as it's a small price to pay for the exceptional service they now receive from Jobs4Blue.
WE BUILD THE JOB
After receiving the job details from the contractor, the Jobs4Blue team gets right to work on building the job within our system, logging all logistics and requirements as needed.
OFFICERS GET NOTIFICATION
After inputting the job into our system, eligible officers immediately receive a notification that the job is available. Only those who meet proper requirements are alerted of the job, this way an officer's time is never wasted bidding on a job for which they don't qualify. Officers have the ability to instantly sign up for the job with just a click of a button via a computer or mobile device.
WE AWARD THE JOB
Jobs4Blue awards the job based on best eligibility. When a job is awarded, officers will immediately receive a text message, email notification, and telephone call to confirm the award and acceptance of the job.
WE CONFIRM WITH THE CONTRACTOR
Once an officer has accepted the job, we confirm with the contractor that the position has been filled. We ensure everything is handled and that everyone remains in the loop.
OFFICER CHECKS IN AND OUT OF JOBSITE
When the officer arrives at the Jobsite, they check-in via their mobile device. Once the job is completed, they check-out the same way. Upon checking out, officers can add comments as needed. Worked an extra hour? Used their personal vehicle? Simply make a note of it and we make sure they receive the proper compensation for it all.
WE PERFORM JOB VERIFICATION
We quickly and efficiently investigate to confirm the job has been completed as noted by the officer. Job verification ensures that timely payment terms are always met by Jobs4Blue.
OFFICERS GET PAID UPFRONT
Payment to officers is remitted biweekly via an automatic ACH direct transfer that is forwarded to the department of record. All departments will additionally receive a comprehensive and detailed payment analysis report included in their biweekly payment cycle. Never is payment held up based on contractor payment. We'll sit tight for the contractor payment, so you don't have to.
WE ABSORB THE FINANCIAL RISK
Jobs4Blue works directly with the contractor to establish a preferred payment method whether it's invoicing, escrow, ACH transfers, credit card, or online payments. In the event that a contractor fails to pay for service, Jobs4Blue will handle all collection activity thereby removing that burden from the municipality.
WHAT SET JOBS4BLUE APART
TRUSTED & PROVEN VENDOR IN LAW ENFORCEMENT
Over 2 decades of experience working with police departments
FINANCIALLY SOUND SOFTWARE CORPORATION
With experience in B2B and vendor relationships
PROPRIETARY INDUSTRY TECHNOLOGY
Our platform ensures transparency and accountability with 100% job matching and job scheduling accuracy
RISK-FREE SERVICES
Jobs4Blue ensures that all jobs are always filled including non-vetted vendors that require immediate service. We absorb all financial risk to ensure your jobs continue to be filled.
INTEGRATION WITH POSS - WE KNOW YOUR SCHEDULE
An upgrade to your existing POSS Extra Duty module, Jobs4Blue is the only system that integrates with POSS for seamless scheduling and the ability to instantly react to real-time changes. With direct access to officers' schedules in POSS, the Jobs4Blue team knows upfront when they're eligible and available to take on extra duty jobs – no guessing or back-and-forth needed.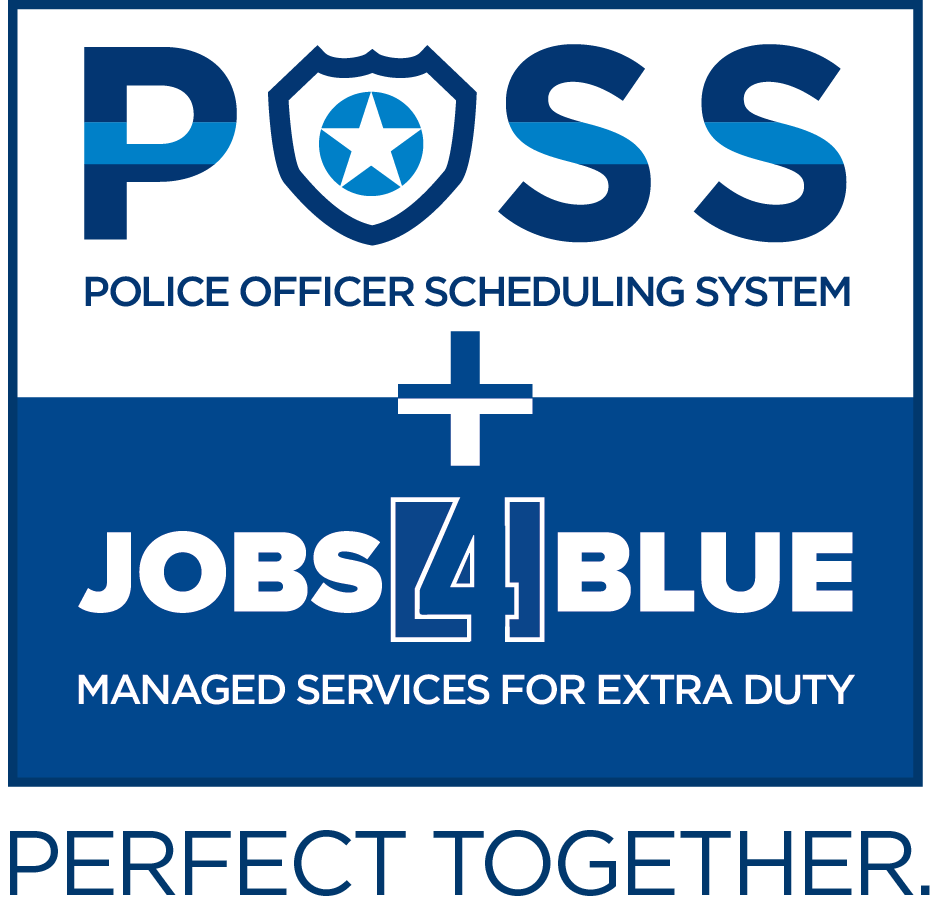 If you're ready to let us administer your Extra Duty program then...