INTELLIGENT WORKFORCE MANAGEMENT FOR BUSINESS and GOVERNMENT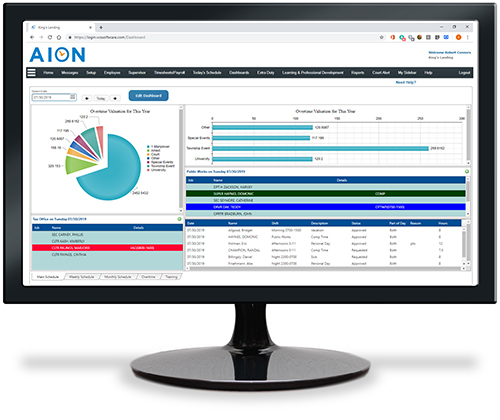 AION manages the scheduling and workforce needs of business and government organizations. Fully equipped with time tracking, employee scheduling, task management, productivity monitoring, and virtual conferencing capabilities, AION has everything you need to dramatically reduce the time it takes to manage your people and processes, from anywhere at anytime.

AION reinvents the way employees work and are managed by utilizing artificial intelligence to streamline workflows, automatically calculating timesheets with 100% accuracy, seamlessly integrating with any payroll provider, and so much more.

Additionally, AION's powerful modular-based platform lets you choose "add-ons" that are tailored to your specific needs, so you can create the perfect solution for your organization.
FEATURES
Compliance & Rules Management
Advanced Scheduling
Text & Email-Based Notifications
Track Employee Achievements
Workforce Analytics
Electronic Timesheets
Time Off Management
Daily Workload Processing
Custom Reporting
Event Scheduling
Overtime Management
Employee Monitoring Tools
HR & Payroll Integrations
Biometric Time Clocks
Mobile App
Custom Payroll Export
Skill Set Management
Staff Shortage Notifications
Employee Self-Serve
Shift and Vacation Bidding
Open Shifts
Unlimited Customized Dashboards
Remote Meeting Integration
Shift Swapping
BENEFITS
Completely eliminate paper while dramatically reducing payroll processing time.

Rapidly access real-time online data and key employee information.

Reduce staffing cost while always staying compliant.
Easily measure productivity and evaluate KPI's to ensure that your operations are always running smoothly, and deadlines are being met.

Maintain a seamless experience by allowing us to connect to your Payroll and Human Resource management systems.


Always know when an employee has acquired a new skill or training that makes them eligible for additional work opportunities or promotions.
AION Pricing
Basic
Timeoff Processing
Shift Switching
Advanced Scheduling
Overtime Management
Shift Dropping
Time Clock vs Work Schedule Verification
Schedule Validation
Skill Identification
Open Shifts
On-call staffing
Detail Assignments
Time Off Liability Reporting
Over 120 Canned Reports
Employee Monitor Tools
$6.25
USD/employee/month
(billed annually)
Essentials
Timeoff Processing
Shift Switching
Advanced Scheduling
Overtime Management
Shift Dropping
Time Clock vs Work Schedule Verification
Schedule Validation
Skill Identification
Open Shifts
On-call staffing
Detail Assignments
Time Off Liability Reporting
Over 120 Native Reports
Employee Monitor Tools
Payroll and Timesheets Reporting
Staffing Compliance Manager
Replacement Policy
Timesheet Calculator Module
Over 50 Native Payroll Integrations
Online Training and Implementation
$9.25
USD/employee/month
(billed annually)
Full Suite
Timeoff Processing
Shift Switching
Advanced Scheduling
Overtime Management
Shift Dropping
Time Clock vs Work Schedule Verification
Schedule Validation
Skill Identification
Open Shifts
On-call staffing
Detail Assignments
Time Off Liability Reporting
Over 120 Native Reports
Employee Monitor Tools
Payroll and Timesheets Reporting
Staffing Compliance Manager
Replacement Policy
Timesheet Calculator Module
Over 50 Native Payroll Integrations
Custom Report and Payroll Export Writer
Learning and Professional Development
Vacation and Shift Bidding Processing
Workloads Management
Online Training and Implementation
$11.00
USD/employee/month
(billed annually)