INTELLIGENT WORKFORCE MANAGEMENT FOR POLICE AND LAW ENFORCEMENT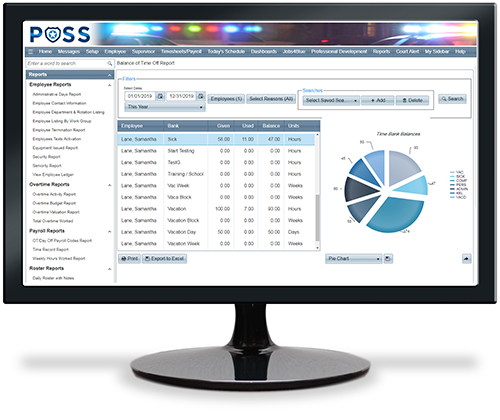 POSS manages the unique scheduling and workforce management needs of law enforcement agencies. Between the complexity of shift patterns, rotations, minimum staffing requirements, FLSA labor laws, and agency/union rules, police scheduling can pose many challenges, but POSS supports over 700+ police departments and law enforcement agencies worldwide to ease those burdens.

POSS combines centralized scheduling, time and attendance, overtime management, electronic timecards, open shift management, payroll functionality, broadcast notification and daily activity features, giving supervisors and administrators one all-inclusive platform to manage staff in the most cost-effective and compliant manner possible.

Additionally, POSS utilizes artificial intelligence to fairly distribute overtime and extra duty assignments, as well as track certifications, leave, court appearances, and time off.
FEATURES
Advanced Scheduling
Compliance & Rules Management
Extra Duty Scheduling
Track Employee Achievements
Workforce Analytics
Electronic Timesheets
Rotating & Fixed Schedules
PTO & Overtime Management
Employee Monitoring Tools
HR & Payroll Integrations
Biometric Time Clocks
Advanced Court Scheduling
Skillset Management
Staff Shortage Notifications
Shift Substitution & Trades
Shift & Vacation Bidding
Unlimited Customized Dashboards
Mobile App
Text & Email-Based Notifications
On-Call Employee Management
Employee Self-Serve
Crossing Guard Scheduling
Overtime Optimization
Custom Reporting
BENEFITS
Dramatically reduce the time it takes to efficiently create, access and manage error-free time cards and schedules.

Completely eliminate paper while cutting payroll processing time in half.

Calculate pay rules, manage minimum staffing levels and configure a rules-based scheduling process while ensuring compliance with all mandated business requirements.
Manage time to reduce overtime costs and promote fair extra duty assignments.

Rapidly access real-time online scheduling data and key employee information.

Automate timesheet creation with a paperless, error-free solution that includes the ability to view, edit, approve and print time tracking data instantly in real-time.
Our Staffing AI feature allows organizations to distribute overtime fairly, calculate payroll rules, and ensure that the right employees with the right skill sets are always in the right position at the right time.

Extra duty jobs for security detail, construction or special events can be automatically filled and billed within our Extra Duty add-on module inherent within the POSS platform.
POSS Pricing
Basic
Timeoff Processing
Shift Switching
Advanced Scheduling
Overtime Management
Shift Dropping
Time Clock vs Work Schedule Verification
Schedule Validation
Skill Identification
Open Shifts
On-call staffing
Detail Assignments
Time Off Liability Reporting
Over 120 Native Reports
Employee Monitor Tools
$6.25
USD/employee/month
(billed annually)
Essentials
Timeoff Processing
Shift Switching
Advanced Scheduling
Overtime Management
Shift Dropping
Time Clock vs Work Schedule Verification
Schedule Validation
Skill Identification
Open Shifts
On-call staffing
Detail Assignments
Time Off Liability Reporting
Over 120 Native Reports
Employee Monitor Tools
Payroll and Timesheets Reporting
Staffing Compliance Manager
Replacement Policy
Timesheet Calculator Module
Over 50 Native Payroll Integrations
Online Training and Implementation
$9.25
USD/employee/month
(billed annually)
Full Suite
Timeoff Processing
Shift Switching
Advanced Scheduling
Overtime Management
Shift Dropping
Time Clock vs Work Schedule Verification
Schedule Validation
Skill Identification
Open Shifts
On-call staffing
Detail Assignments
Time Off Liability Reporting
Over 120 Native Reports
Employee Monitor Tools
Payroll and Timesheets Reporting
Staffing Compliance Manager
Replacement Policy
Timesheet Calculator Module
Over 50 Native Payroll Integrations
Custom Report and Payroll Export Writer
Learning and Professional Development
Vacation and Shift Bidding Processing
Workloads Management
Court Assignment and Scheduling
Extra Duty Billing Management
Online Training and Implementation
$12.50
USD/employee/month
(billed annually)